jun 06


Sony Isabel Martínez Pimentel
Mil Formas de Vida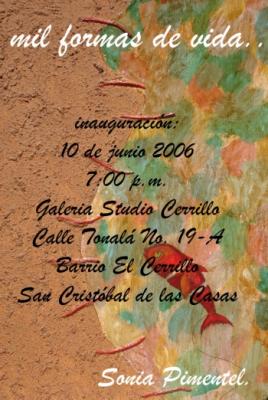 El Galeria Studio Cerrillo es feliz de presentar la primera exposición en un año la serie del arte feminista. Somos cometidos para presentar las artes plásticas por artista nacional e Internacional de mujeres que trata con la alegría y el dolor, la sexualidad y del abuso las mujeres encaran diariamente. Por favor visita y sostiene este proyecto esencial.

El primer artista es, Sonia Isabel Martinez Pimentel, una pintora de Tuxtla Gutiérrez, Chiapas. Su exposición permitió, "MIL FORMAS DE VIDA", es una expresión de la pérdida de un niño.

Celebre por favor con nosotros la primera exposición en este año la serie de arte de mujer

Viva la arte.

Galeria Studio Cerrillo is happy to present the first show in a year long series of feminist art. We are committed to present plastic arts by National and International women artist dealing with the joy and pain, the sexuality and the abuse women face daily. Please visit and support this vital project.

The first artist is Sonia Isabel Martinez Pimentel, a painter from Tuxtla Gutierrez, Chiapas. Her show entitled, "MIL FORMAS DE VIDA", is an expression of the loss of a child.

Please celebrate with us the first exposition in this year long celebration of feminine art.

Viva la arte.





Hold mouse over thumbnail image to see larger image
Mueve el 'mouse' sobre la imagen pequeña para ver la imagen más grande


Reviews/Reseñas: Mil Formas de Vida
Web Design/Diseño Web: expomas.com